Freedom Hills Exclamation AMHA/AMHR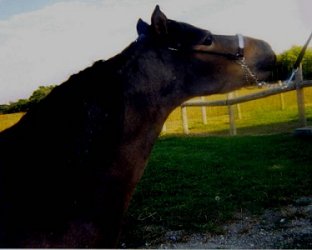 "Daisy May" as we call her is a 32" Brilliant Bay, with some roaning on her rump, and markings on all four fetlocks.
Her sire is Brewer's Dynamo Executive, and her Dam is Freedom Hill Farms Monte Cassino.
She is 5 years old and carries her Permanant A papers.
Daisy was bred in August, so she will be due to foal in July. We sold this fine mare.


CONGRATULATIONS!

Copyright © 2001
All Rights Reserved: Bella Star Farm
Site Designed by:
MIDNITE STAR DESIGN
(Formerly)Graphics by CHancz.