AMORE' SO JADED - AMHA/AMHR 31" Dun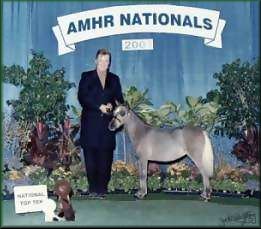 We are proud to be leasing this beautiful Filly from Amore' Miniatures, and hope to be able to purchase her some day, as she is "The Love of my Life!!!"

This Fine fillies dam is Soats Golden Glitter, and her sire is Everdream Farm Midas Indian Outlaw, who is a Multi-winning champion in halter as well as driving classes. Jade has a VERY Arabian style head with a long upright slender neck. Jade placed 4th in the 2001 AMHR National open weanling filly class, and 8th in the top ten, AMHR Futurity.

Jade is by far, my favorite mare. I fell head over heals in Love with Jade the moment I saw her.
We are expecting a 2005 foal from her sired by Gracelands Travilin Man.
A HUGE Thank you, to Amore' Miniatures, for allowing Jade to fill that special spot in my heart.





Copyright © 2001
All Rights Reserved: Bella Star Farm
Site Designed by:
MIDNITE STAR DESIGN
(Formerly)Graphics by CHancz.